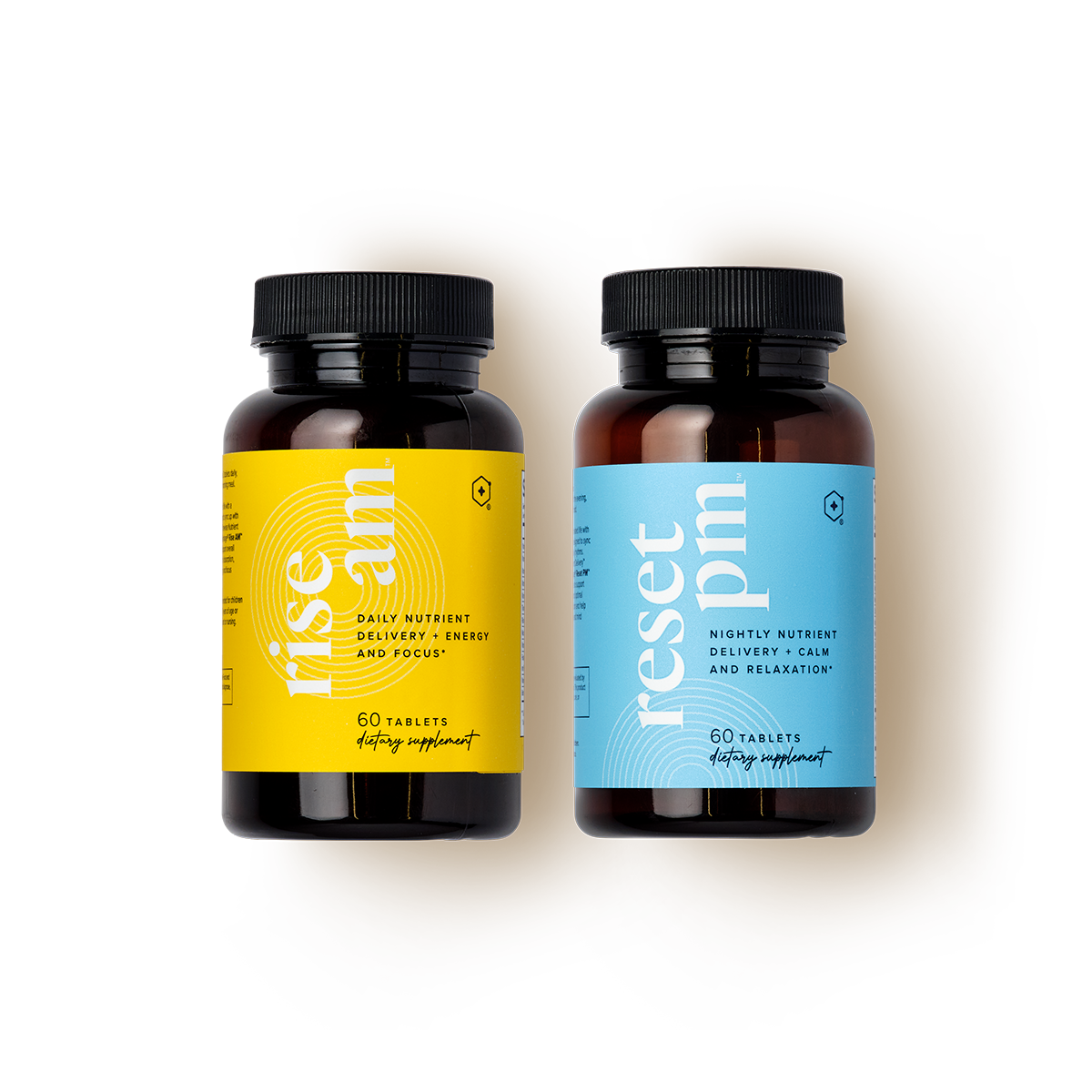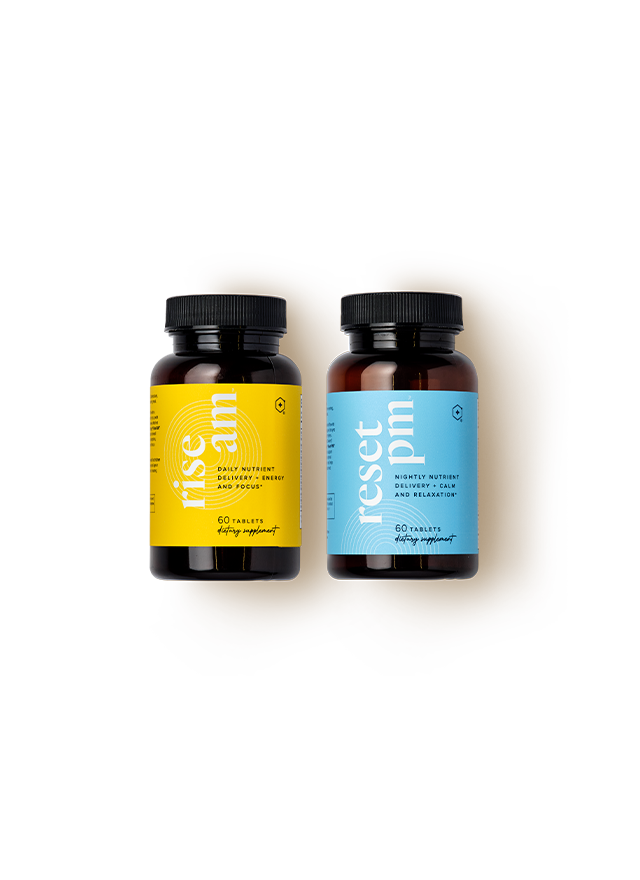 {{ product.badge }}
Free Shipping
LifeVantage® Rise AM™ & Reset PM™ System
Build your essential micronutrient foundation with the Rise AM & Reset PM System, which provides vitamins, minerals and adaptogens to support ultimate activation of your antioxidant pathways.*
Rise AM™ & Reset PM™ System
Choose an Option
Choose one-time order before adding to cart. Choose one-time order or monthly subscription before adding to cart.
30-Day Money Back Guarantee
Non-GMO

Vegetarian

Gluten-Free

Dairy-Free
The Right Nutrients. In the Right Amounts. At the Right Time.
Your body's rhythms are synced with the rising and setting of the sun. Once interrupted, these cycles can affect our body, mood, and more. These cycles can also be affected by how and when you supplement your nutrition. Too much of one mineral in the morning or another vitamin at night can lead to unwanted effects. Many multivitamins are convenient. But science has shown that a complete days' worth of vitamins and minerals all at once is not optimal for health. The body's natural rhythms as well as timing, absorption rates, and the interaction of certain ingredients in the body are all important factors to make sure you get a multinutrient that properly supports your optimal health.
It's Time for a Wiser Approach to Nutrition
One pill, once a day, is all it takes to make up for the shortfalls in your diet, right? Well, not exactly. At LifeVantage® , we strive for better, so you can feel and live your best. As specialists in nutrigenomics, we formulated Rise AM and Reset PM with special attention to the nutrients necessary to power the complex tasks activated by your Protandim® products to enhance well-being and long-term health.*
The Rise AM™ & Reset PM™ System is designed with Timewise Nutrient Delivery™ – an intelligently designed formulation system that aligns with the natural rhythms of your body.
The right nutrients. Including vitamins, minerals and adaptogens, carefully selected to build a proper nutritional foundation in order to support ultimate activation of your antioxidant pathways.*
In the right amounts. Ensuring that you receive the right amounts your body needs while also eliminating concerns about providing more than your body can absorb.
At the right time. Specifically formulated so that certain micronutrients don't compete with one another for absorption or decrease their individual effectiveness.
The result is nutrition that allows for your body to stay in sync with its natural rhythms, delivering energy and focus for a productive day and helping to calm your mind and body at night.*
Provides key nutrients needed to support cell signaling and gene activation to help maximize the effectiveness of the Protandim line*
Supports overall cellular lifecycle, cell structure, health and function*
Provides key micronutrients necessary for total body health*
May help to fill in nutrient gaps*
Supports overall health, wellness and wellbeing*
Supports healthy aging*
Supports nutrient metabolism and energy production*
Supports immune health*
Supports cardiovascular health*
Supports healthy looking skin, hair and nails*
Supports brain health, learning, focus and memory*
Supports musculoskeletal health (muscles, bones, joints, teeth)*
Supports eye health*

In a consumer trial, participants already taking the LifeVantage® Protandim® Synergizers were asked to use Rise AM™ & Reset PM™ s for 90 days. Participants were not told what to expect . Here are the results:††
23% increase in mental energy*
27* increase in physical energy*
25% increase in alertness*
32% improvement in mood*
37% increase in ability to relax*
34% improvement in stress relief at night*
43% increase in feeling refreshed in the morning*
†† Individual results may vary.