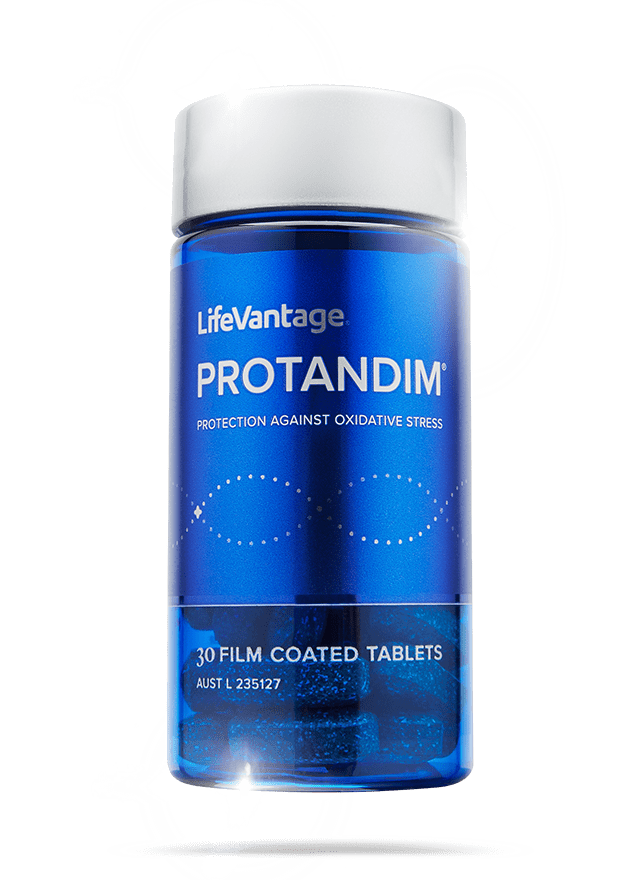 {{ product.badge }}
Free Shipping
Protandim®
Protandim® Nrf2 Synergizer™
Protandim, protected by U.S. patents, is made of five potent botanicals.
Always read the label. Use as directed. If symptoms persist seek the advice of your health practitioner.
$
30-Day Money Back Guarantee
Try our products risk-free. You can return your order within 30 days of purchase for any reason.
No-Hassle Subscriptions
You can skip a month or cancel your subscription online at any time, so you can choose our best pricing with confidence.
The Start of Your Healthy Living
Free Radicals, generated through the process of living life (eating, sleeping, breathing, exercising), are inevitable for everyone. Comprised of natural plant ingredients.
Benefits
Protandim is a daily dietary supplement that combats free radicals.
Exclusive LifeVantage Patents for Protandim
Patent No.

7,241,461
Awarded
Patent No.

7,579,026
Awarded
Patent No.

7,923,045
Awarded
Ingredients
Turmeric (Curcuma longa) is a rhizomatous herbaceous perennial plant of the ginger family Zingiberaceae. Native to tropical South Asia, it needs temperatures between 20°C and 30°C, as well as a considerable amount of annual rainfall, to thrive.

Green tea (Camellia sinensis) comes from a plant native to Asia called Camellia Sinensis, the same plant that is the source of black tea. What makes green tea different, and green, is not the plant used to make the tea, but how it is processed.

Bacopa (Bacopa monnieri) extract is taken from the succulent leaves of a small creeping plant commonly found growing throughout damp and marshy wetlands of India. This herb, with its small white flowers, is often mistaken for a water lily, although the two are related.

The milk thistle (Silybum marianum) is a tall, flowering plant with spiny stems and toothed, thorny leaves. Native to the Mediterranean, this plant can now be found throughout the world.

Ashwagandha (Withania somnifera) grows as a short shrub with a central stem from which branches extend radially in a star pattern and covered with a dense matte of wooly hairs. The flowers are small and green, while the ripe fruit is orange-red and has milk-coagulating properties.
Label Info
Serving Size

1 Tablet
Servings Per Container

30
| Amount Per Serving | Amount | DV% ** |
| --- | --- | --- |
| Silybum marianum dry seed | 5.62g | |
| Bacopa monnieri dry herb | 3.00g | |
| Curcuma longa dry rhizome | 1.95g | |
| Camellia sinensis dry leaf | 1.875g | |
| Equivalent caffeine | 1.38mg | |
| Withania somnifera dry root | 975mg | |
Other Ingredients

100% vegetarian, free of gluten, wheat, dairy, gelatin, and yeast.
Usage
Directions For Use

Adults only: Take 1 tablet daily with meals, or as directed by your health practitioner. Not Suitable for children.
Warnings

Do not use this product if inner safety seal is torn or missing.