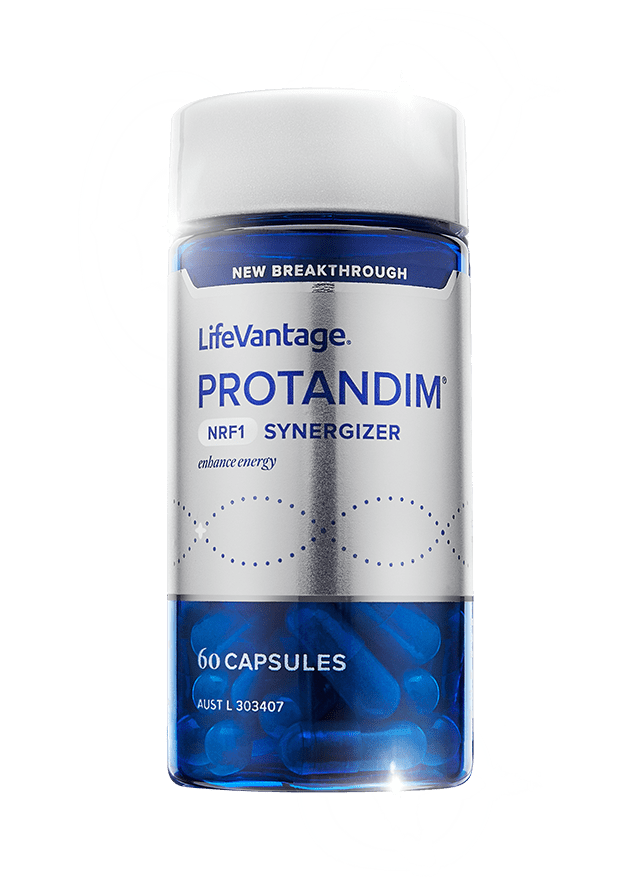 {{ product.badge }}
Free Shipping
Protandim
Protandim® NRF1 Synergizer™
Protandim® NRF1 Synergizer is a breakthrough in the science of healthy aging that uses ingredients to harness the power of Nutrigenomics.
$
30-Day Money-Back Guarantee
Try our products risk-free. You can return your order within 30 days of purchase for any reason.
No-Hassle Subscriptions
You can skip a month or cancel your subscription online at any time, so you can choose our best pricing with confidence.
Take The Power Back
With age comes wisdom and maturity; that's the upside. But you also feel old, and may lack energy. Thanks to a breakthrough in nutrigenomics, we're able to support healthy aging at the cellular level. It's called Protandim NRF1 Synergizer, and it's revolutionizing health and wellness. Beneficial during times of stress, aids and assists in the maintenance or improvement of general well-being.
Benefits
Protandim NRF1 Synergizer works on the cellular level to enhance energy levels.
Ingredients
An amino acid (a building block for proteins) that is naturally produced in the body. Combined with Alpha Lipoic Acid, these two ingredients help enhance cellular energy levels.

Quercetin is a naturally occurring antioxidant, a flavonoid that is abundant in various fruits and vegetables; it is a NRF1 activator. Quercetin is a polyphenol —which supports ATP synthesis.

Alpha lipoic acid, or ALA, is made in the body and helps to turn glucose into energy that the cell can use.

This extract contains powerful natural Stilbenoids (Resveratrol and viniferin).

It is made in the body and resides primarily in mitochondria where it plays a key role in transporting electrons so ATP is made. Combined with Alpha Lipoic Acid, it supports cellular energy levels.
Label Info
Serving Size

2 Capsules
Servings Per Container

30
| Amount Per Capsule | Amount | DV% ** |
| --- | --- | --- |
| Acetyl Levocarnitine Hydrocloride | 250mg | |
| Quercetin Dihydrate | 70mg | |
| Alpha Lipoic Acid | 25mg | |
| Ubidecarenone | 15mg | |
| Vitis vinifera (Grape) Conc. Dry Extract | | |
| Equivalent to Dry Seed | 1050mg | |
| Vitis vinifera (Grape) Conc. Dry Extract | | |
| Equivalent to Dry Fruit without Juice | 3500mg | |
Usage
Directions

Adults only: Take two capsules once daily with water or as directed by your health practitioner.

Not suitable for children.
Warnings

If you are pregnant, nursing, suffering from a serious medical condition, taking a prescription drug, or have surgery scheduled in the next two weeks, consult a physician. Do not take while on warfarin therapy without medical advice.
Note

100% Vegetarian, Free of Gluten, Wheat, Dairy, and Yeast.