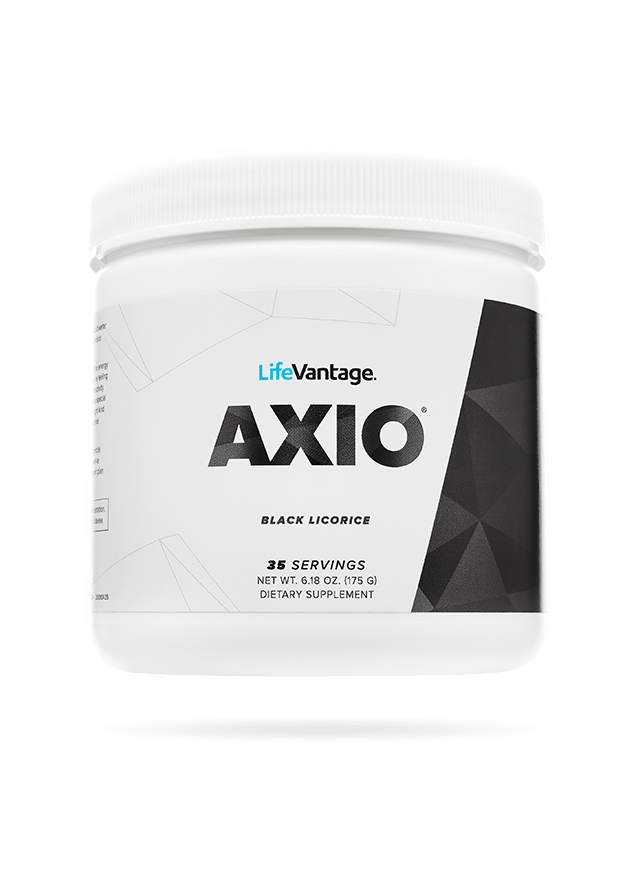 {{ product.badge }}
Free Shipping
AXIO
AXIO® Regular Limited
Unlock your brain's potential with AXIO Smart Energy. *
Say Hello to the Other 90% of Your Brain
Say no to energy drinks, say hello to Nootropics. AXIO takes a different approach to energy—specially formulated to give energy to your mind, not just your body. Because when you're feeling tired or sluggish, it's your brain that needs a pick-me-up, not your hyperactivity levels. Engineered with Nrf2 ingredients, AXIO is designed to wake your brain up, increase concentration, and deliver the right kind of energy, right when you need it without the jitters or caffeine crash. *
Benefits
Improves mental endurance & mental acuity, concentration & memory retention*
Enhances neurotransmitter function and the brain's resilience to stress*
Reduces mental fatigue & brain fog*
Increases physical & mental energy while improving positive mood*
A clean, low-calorie, low-carb, vegetarian formula that is BSCG approved and free of artificial colors, artificial flavors and artificial sweeteners, GMOs and gluten.
The Science Behind AXIO Smart Energy
AXIO uses a smart blend of ingredients chosen to provide long-lasting power, enhanced concentration and improved focus without the jitters. AXIO's blend of ingredients that includes vitamins, minerals and phytonutrients supports energy metabolism and provides energy. AXIO accomplishes all of this without the use of unwanted calories. *
People who use AXIO report immediate benefits like enhanced concentration and sharper focus. While AXIO is a short-term solution for energy, mood, and concentration, it comes with long-lasting benefits. AXIO directly addresses the body's response to everyday stress — which is aggravated by our hectic schedules, daily worries, and occasional poor sleep patterns. *
* These statements have not been evaluated by the Food and Drug Administration. These products are not intended to diagnose, treat, cure or prevent any disease.
Ingredients
Helps support brain function; Required for energy metabolism; Helps maintain normal cellular function; Helps promotes positive mood; Helps support optimal working memory; Helps reduce fatigue; Helps promote healthy energy. *

Helps support normal nervous system function and brain health; Promotes healthy energy metabolism. *

Shown to improve mental function by increasing focus and concentration and decreasing perceived effort; Helps promote alertness, mental clarity, and sense of energy. *

Helps support normal brain & nervous system function; Helps optimize memory & attention without overstimulation; Helps promote a state of alertness without the jitters; Helps improve learning performance, focus & mental acuity. *

Provides a natural energy boost. *

Helps support optimal mental performance. *

Helps promote healthier, sustained energy without overstimulation; Helps promote a state of alertness without the jitters; Helps improve learning performance, focus & mental acuity. *

Known for its antioxidant function; Helps boost cellular protection. *
Label Info
Serving Size

1 Scoop
Servings Per Container

35
| Amount Per Serving | Amount | DV% ** |
| --- | --- | --- |
| Calories | 15 | |
| Total Carbohydrate | 3g | 1% |
| Total Sugars | 2g | |
| Includes 2g Added Sugars | | 4% |
| Niacin (as Nicotinic Acid) | 24mg (NE) | 150% |
| Vitamin B6 (as Pyridoxine HCI) | 2mg | 118% |
| Vitamin B12 (as Methylcobalamin) | 6mcg | 250% |
| Magnesium (as Magnesium Aspartate) | 10mg | 2% |
| Proprietary Blend | 500mg | † |
| DMAE Bitartrate, Green Tea Extract (Camellia sinensis) (Leaf), Quercetin Dihydrate, Pine Bark Extract (Pinus pinaster), L-Theanine | | |
Other Ingredients

Sugar, Maltodextrin, Citric Acid, Monk Fruit Extract
(Lo Han Guo), Spirulina Extract (for color), Caffeine, Natural Flavor, Fruit and Vegetable Juice (for color), Gum Acacia, Guar Gum, Xanthan Gum.
Usage
Directions

Add one scoop of AXIO to 12-16 ounces of cold water (in a bottle, glass, or other container). Shake or stir for at least 30 seconds or until contents are mixed well.
Warning

Not recommended for children or individuals under 18 years of age, pregnant or nursing women or individuals sensitive to caffeine.
Note

This product contains approximately 100mg of caffeine per packet (equivalent to one cup of regular coffee). The FDA recommends no more than 400mg of caffeine per day.