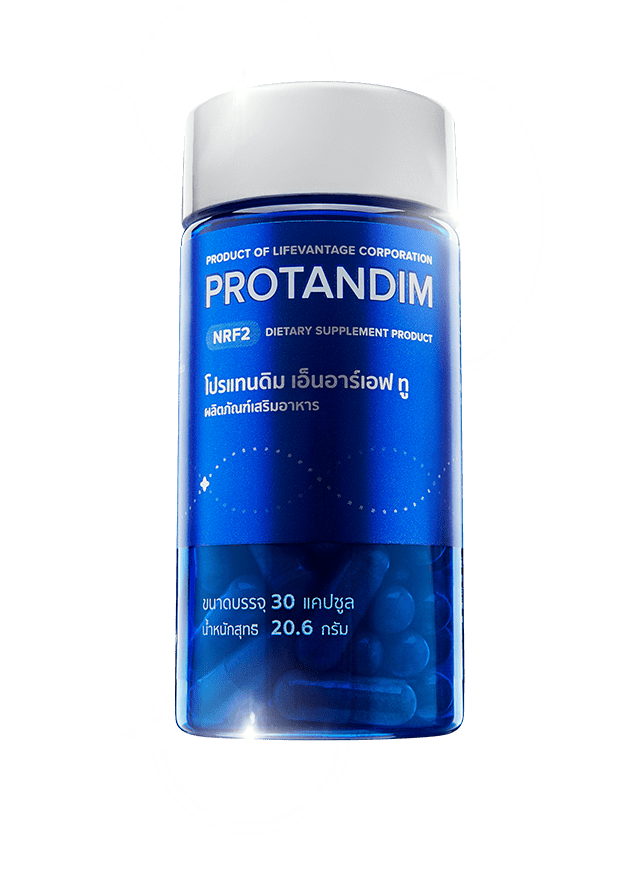 Free Shipping
Protandim
Protandim® Nrf2
30 Capsules

{{ getPrice(variant.prices, { priceLevel: getPriceLevelRetail() }).pv }}

PV
The Start of Your Healthy Living
Researchers and scientists agree that aging is the result of cellular deterioration caused by free radicals. It is impossible to avoid free radicals because the food you eat and the air you breathe, as well as stress or even vigorous exercise, can stimulate cells to produce destructive free radicals in staggering numbers. The human body fights free radicals by producing its own antioxidant enzymes, but as we grow older our bodies produce more free radicals and fewer of these antioxidant enzymes to fight the battle of aging. That's where Protandim Nrf2 Synergizer plays a critical role by boosting the body's production of antioxidant enzymes at the cellular level with enough neutralizing capacity to reduce age-related increase in free radical damage.
Benefits
Protandim Nrf2 Synergizer works to support the body's own protective measures by turning on its internal antioxidant defense system, regulated by the protein Nrf2. When activated, Nrf2 triggers cells to produce naturally occurring antioxidant enzymes as well as housekeeping "cleanup" proteins which work together to deliver balanced protection against cellular stress.
Protandim Unleashes Powerful Antioxidant Enzymes to Protect Cells
Protandim's specific formula activates the Nrf2 protein, also known as a "master regulator" of the body's stress response. Protandim stimulates this protein, resulting in the body producing its own powerful, protective antioxidant enzymes: superoxide dismutase, heme-oxygenase, glutathione peroxidase and catalase.
These enzymes function as potent antioxidants capable of neutralizing more than one million free radicals or reactive oxygen species. It's the synergy of ingredients in Protandim that are effective in activating the Nrf2 pathway. There are other benefits of Nrf2 activation beyond cellular protection. Protandim helps the body repair and rejuvenate its own cells and detoxify genes, keeping the master blueprint of the cell's function intact.
Protandim is the only supplement proven in a clinical study to reduce oxidative stress by an average of 40% in 30 days. Protandim has been shown to increase superoxide dismutase levels by 30%, glutathione by 300%, and catalase by 54%. When individuals were supplemented with Protandim for 30 days, the age-dependent increase in lipid peroxidation was completely eliminated. Lipid peroxidation in an older subject was reduced to the level of a 20-year-old. This means the body is not only capable of making its own antioxidant enzymes, but also that their production can be activated by Protandim to reduce cellular stress and may help protect against the aging process and several conditions in which cellular stress has been reported to be a contributing factor.
%

40

Reduction in Oxidative Stress in 30 days
Ingredients
Turmeric has been used for 4,000 years in both Ayurvedic and Chinese medicine to help a variety of conditions. Current studies show that turmeric helps fight cellular stress, reduce joint discomfort and aid digestion. Turmeric is known to contain natural phenols called curcuminoids.

Green tea is made from unfermented leaves and reportedly contains the highest concentration of powerful antioxidants called polyphenols, particularly catechins, of which epigallocatechin gallate (EGCG) is the most abundant. Protandim's green tea extract contains 98% polyphenols. Green tea has been traditionally used for many health benefits, including regulating body temperature and blood sugar, promoting digestion, improving mental processes and improving cardiovascular health.
Label Info
Other Ingredients

Microcrystalline Cellulose, Croscarmellose Sodium, Silica, Modified Cellulose, Stearic Acid, Magnesium Stearate, Maltodextrin, Medium Chain Triglycerides.
Usage
Directions

Adults take one caplet daily with food.
Warnings

If you are pregnant, nursing, or on immunosuppressive therapy, please consult with your physician before taking Protandim.
Note

100% Vegetarian. Free of gluten, wheat, dairy, gelatin and yeast.