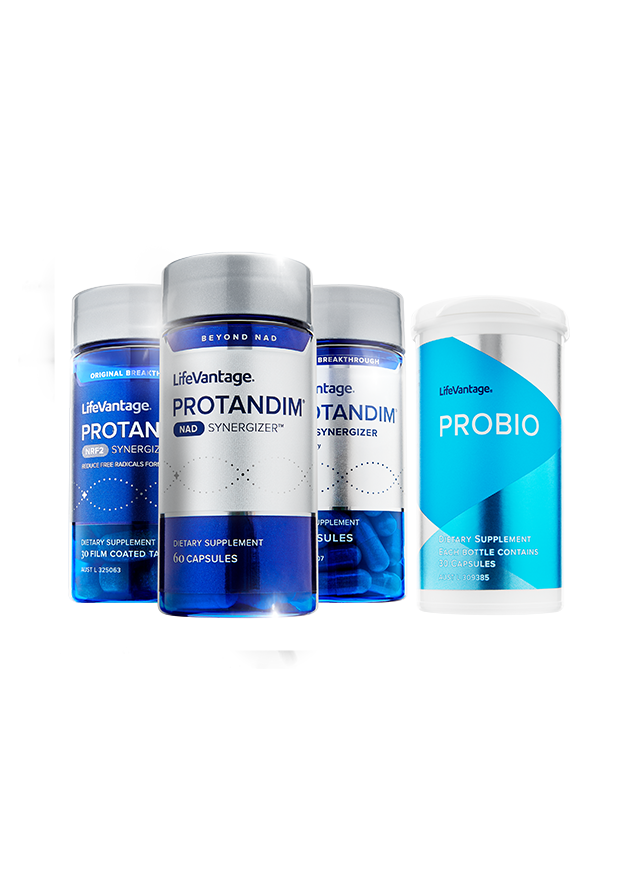 {{ product.badge }}
Free Shipping
Protandim & LifeVantage
Total Balance Stack
Support total balance in your life with a powerful combination of the exclusive LifeVantage Tri-Synergizer paired with ProBio. Our LifeVantage ProBio supports the replenishment of good bacteria to your microbiome to balance your gut, and Tri-Synergizer will help support your physical health and mental focus. No other product is more effective for supporting the activation of your body in three key ways: Neutralize free radicals with Protandim® Nrf2 Synergizer™, Energize by supporting your cellular energy with Protandim® NRF1 Synergizer™, and Revitalize by supporting the activity of sirtuins--proteins essential for cellular function--with Protandim® NAD Synergizer™.
Total Balance also allows you to Flip the Switch on giving back with a $1 donation to LifeVantage Legacy for every pack purchased. Take control of your health while helping to serve those in need with the Total Balance Stack.
(1) Protandim NRF1, (1) Protandim Nrf2, (1) Protandim NAD, (1) LifeVantage ProBio, (1) $1 Legacy Donation
$
30-Day Money Back Guarantee
Try our products risk-free. You can return your order within 30 days of purchase for any reason.
No-Hassle Subscriptions
You can skip a month or cancel your subscription online at any time, so you can choose our best pricing with confidence.