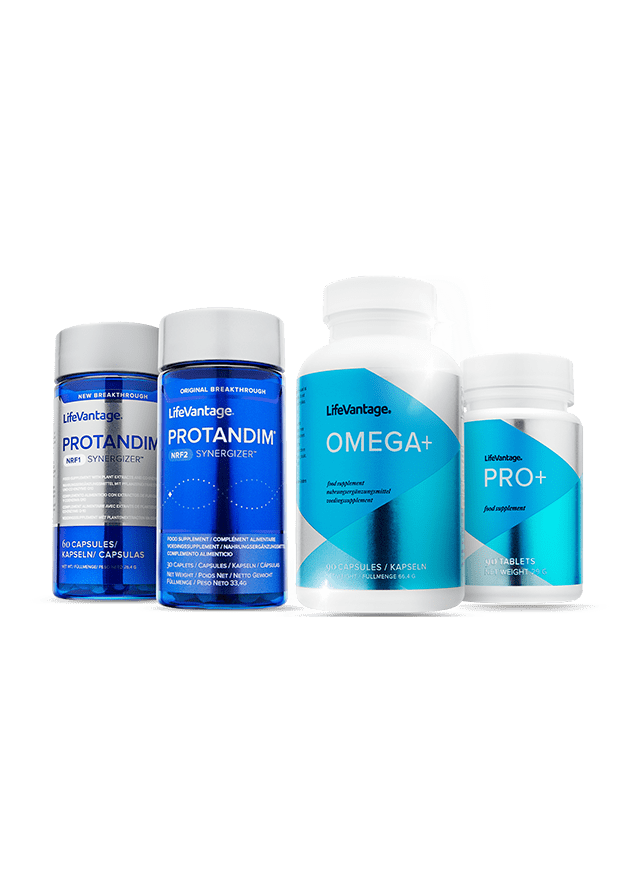 {{ product.badge }}
Free Shipping
Protandim & LifeVantage
Vitality Stack
All the support you need to help ensure your brain, heart, eyes and other vital organs are working at peak performance.
€
30-Day Money Back Guarantee
Try our products risk-free. You can return your order within 30 days of purchase for any reason.
No-Hassle Subscriptions
You can skip a month or cancel your subscription online at any time, so you can choose our best pricing with confidence.
Organ Health
I think we can all agree that our organs are kind of, um... a little bit, well ...important. A healthy lifestyle promotes healthy aging and NRF1 And Nrf2 Synergizers have been created with this in mind. Omega+ contains ingredients that contribute to support cardiovascular and cognitive health. And Pro+ supports healthy ratios of important bacteria. Your organs do a lot for you - its time to return the favor.
Products
Like Protandim, we're not satisfied with conventional thinking. We believe science can answer some of life's biggest challenges, and we're driven by a relentless desire to discover and create more solutions engineered fueled by real results. Comprised of natural plant ingredients, Protandim is a science-based formula that has been researched by renowned research institutions around the world.

When we get older, we feel like we're losing power. And it turns out that's exactly what's happening. When you begin to tire more easily and lose mental clarity, you're experiencing a natural power drain. Instead of a couple AA batteries, our bodies run on several billion mitochondria. They turn the food we eat into energy called ATP. When you use your body for anything--flexing muscles, pumping blood, or reading, --you can thank your mitochondria. They're your body's batteries.

LifeVantage Pro+ is a way to help to get your body back on track that is based on science. The balance of healthy and harmful bacteria in your gut is a delicate one that affects your mental and physical health. That's why LifeVantage chose naturally derived Pro+ delivered by BIO-Tract® controlled-release technology to give you the support you need. Combined with clinically proven Wellmune® to encourage optimal immune system health, Pro+ supports your journey towards uncovering a healthier self.

LifeVantage Omega+ contains DHA and EPA Omega-3 fatty acids to support cardiovascular health, and cognitive health. LifeVantage Omega+ fish oils are 100% traceable from boat to bottle, sourced from CodMarine® Norwegian fish oil. This environmentally friendly formula and lightly flavored with lemon and lime.
Label Info & Usage
Please view individual products for their label and ingredient information.