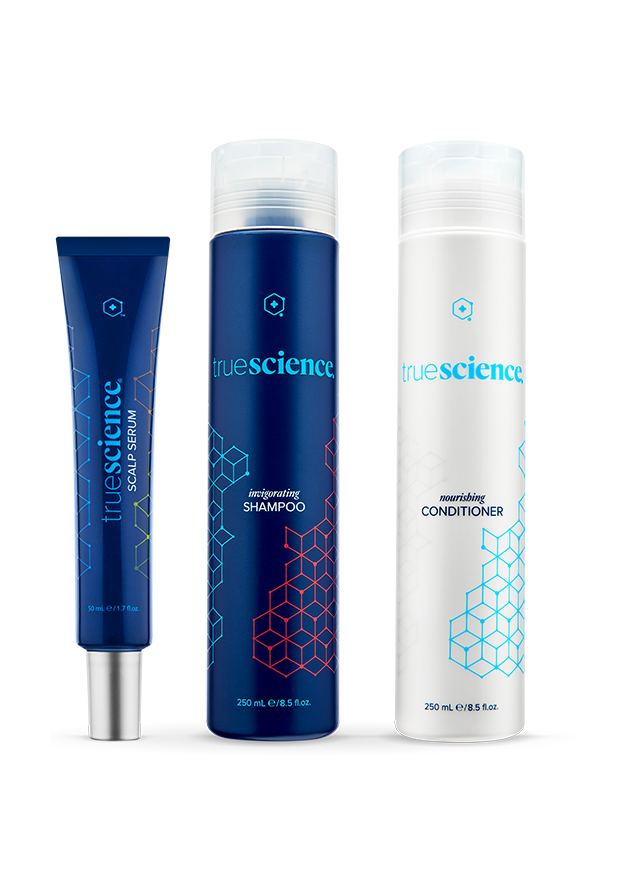 {{ product.badge }}
Free Shipping
TrueScience®
TrueScience® Hair Care System
With Nrf2 Ingredients
Introducing the first hair care system designed for biohackers. It is scientifically engineered with advanced and environmentally friendly Nrf2 ingredients for a super clean formula that is as easy on your hair as it is on the environment.
€
30-Day Money Back Guarantee
Try our products risk-free. You can return your order within 30 days of purchase for any reason.
No-Hassle Subscriptions
You can skip a month or cancel your subscription online at any time, so you can choose our best pricing with confidence.
It's Time to Expect More Out of Haircare
Hair care has remained essentially the same for far too long. Clean your scalp without addressing the literal 'root' of the issue. The new TrueScience Hair Care system is designed differently. It is formulated with Nrf2 ingredients and a clean formula that puts more into your scalp and less into the environment. It is a biohacker's approach to hair care and it is changing everything.
Benefits
Clean formula
Nourishes and conditions hair
Reduces hair frizz
Protects against environmental assaults
Reduces split ends
Improves shine and body for fuller and thicker looking hair
Safe for chemically treated and coloured hair
Mindfully formulated with Nrf2 ingredients
Awards
Truly Clean, Truly Powerful, Truly Science
Biohackers are never content with the status quo. We are prone to ask questions. So we asked ourselves: What if hair care did more? What if it was not just good for you, but the environment as well? What if you could have the best of both worlds: cleaner ingredients that leave your hair looking healthier?
So, our scientists got to work. The next generation of hair care is now here. Engineered with Nrf2 science and infused with clean, effective ingredients, the TrueScience Hair Care system is designed specifically for biohackers. It not only improves shine and body for fuller, thicker, healthier looking hair – it reimagines what hair care can do. No more choosing between good for you and good for the environment. No more marketing hype. No more simply cleaning follicles without addressing the 'root' of the problem. We have got your follicles covered with biohacking's first hair care solution.
Products
Apiscalp™ - Moisturizes the scalp and protects healthy scalp microflora for more beautiful hair. *

Lanatellis® - Protects hair against environmental assaults. *
* Hairgenyl® is used under license from SILAB. Apiscalp™ is used under license from Sederma, Inc. Lanatellis® is used under license from Lucas Meyer Cosmetics Canada, Inc.