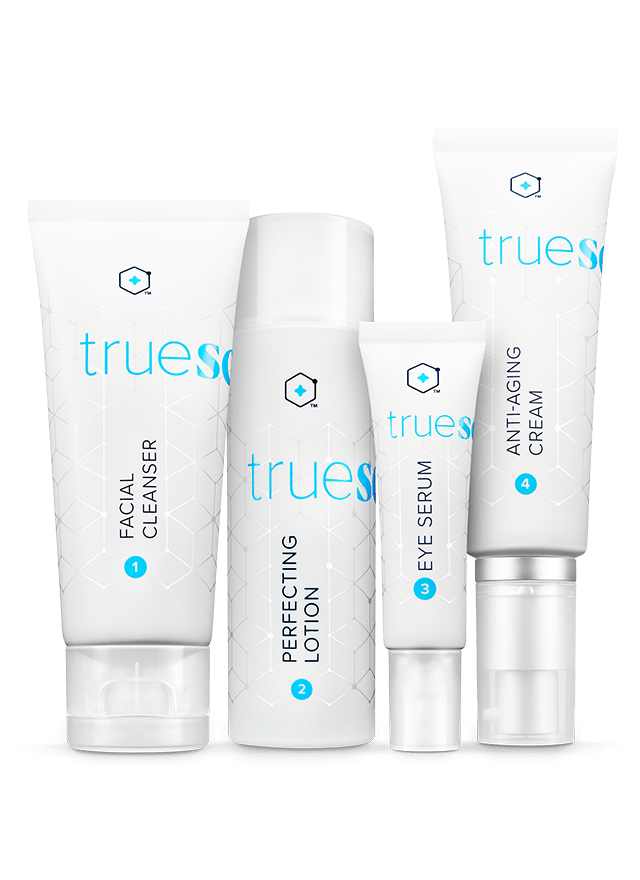 {{ product.badge }}
Free Shipping
TrueScience®
TrueScience® Beauty System
With enhanced Nrf2 Technologies
Introducing the world's first skin care system powered by nutrigenomics. TrueScience Beauty System is designed to create healthier, more vibrant and beautiful skin from the inside out.
€
30-Day Money Back Guarantee
Try our products risk-free. You can return your order within 30 days of purchase for any reason.
No-Hassle Subscriptions
You can skip a month or cancel your subscription online at any time, so you can choose our best pricing with confidence.
Powerful Science. Real Results.
Beautiful skin is healthy skin—inside and out. It's a philosophy that led us to TrueScience. More than helping you look and feel your best, TrueScience is complete line of skincare products scientifically engineered with Nrf2 technologies and safe ingredients to help your skin repair and rejuvenate itself. So instead of harsh, ineffective ingredients, you can give your skin the exact opposite. Safe, effective, and powerful, TrueScience works, and it can help you bring youth and brilliance back to your skin.
Whether it's firmer skin, even tones, less-visible wrinkles, or fewer bags under your eyes, TrueScience can give your skin the health, youth, and radiance you want. Unless you want the same old expensive big brand stuff that doesn't work. Then you're on your own.
Benefits
Mitigates visible effects of skin damage caused by oxidative stress.
Strengthens skin's own protective barriers for a more youthful appearance.
Provides protection against environmental assaults on skin.
Counterbalances the visible negative effects of sun related damage.
Your Skin Has a Big Job
Our skin is the protective layer of our entire body and our survival depends upon it working well. In fact, it is considered an "organ" and the main component of the integumentary system (others include hair and nails). It is amazing to think that skin is the first-line shield against several external threats in the environment for the entire human race. When it functions normally, our skin defends valiantly against infectious pathogens, radiation from the sun and the climate. It is one of the body's critical tools to regulate temperature and prevent the loss of water.
Exclusive LifeVantage Patents for TrueScience
Patent No.

US 9,289,374 B2
Awarded
Patent No.

US 9,889,171 B2
Awarded