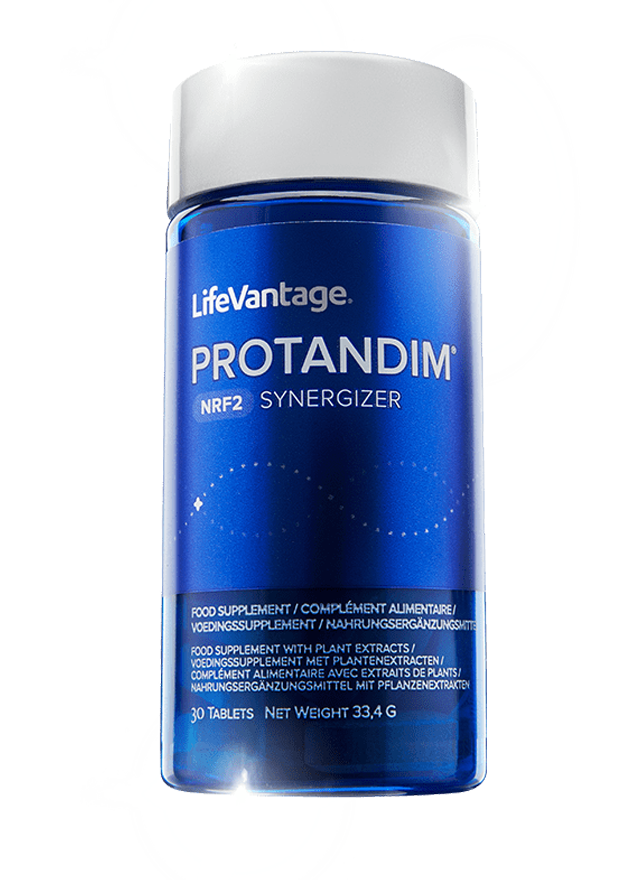 {{ product.badge }}
Free Shipping
Protandim®
Protandim® Nrf2 Synergizer™
Comprised mainly of natural plant ingredients, Protandim is a patented, science-based formula that has been researched, tested and validated, and published by renowned research institutions around the world.
€
30-Day Money Back Guarantee
Try our products risk-free. You can return your order within 30 days of purchase for any reason.
No-Hassle Subscriptions
You can skip a month or cancel your subscription online at any time, so you can choose our best pricing with confidence.
Welcome to the Evolution
How can one tiny supplement scare a $130 billion industry? When it's a supplement taking a completely different approach to aging.
We already know that we age because of the oxidative stress on our cells. Scientists have known for years that antioxidants are the key to reversing the aging process. But the supplement industry wants us to believe that means taking expensive antioxidant supplements or "super fruit" juices. They're wrong.
While antioxidants help neutralize the free radicals that lead to oxidative stress, just taking more antioxidants can only neutralize one free radical at a time. That's like trying to bail out a sinking ship with a bucket.
You can take more antioxidants. But we suggest making them. Protandim Nrf2 Synergizer keeps you healthy and strong from the inside out.
The science behind Protandim Nrf2 Synergizer has been proven and validated over and over. And it feels pretty good. Like Protandim, we're not satisfied with conventional thinking. We believe science can answer some of life's biggest challenges, and we're driven by a relentless desire to discover and create more solutions engineered fueled by real results.
Benefits
Protandim Nrf2 Synergizer is a daily food supplement that supports cellular health and well being
Science research and literature demonstrate the importance of cellular health
The traditional ingredients in Protandim Nrf2 Synergizer have been used to help support health and well being
To be used with any healthy diet to support cellular health and general well being
Potent
Protandim Nrf2 Synergizer, protected by U.S. patents and contains five potent botanicals. Learn more about each ingredient and their essential role in the science of Protandim Nrf2 Synergizer.
Ingredients
Turmeric comes from the rhizome of a herbaceous perennial plant of the ginger family, Zingiberaceae. Native to tropical South Asia, it needs temperatues between 20C and 30C, as well as a considerable amount of annual rainfall to thrive. Traditionally, it has been used to support healthy gall bladder function.

Green tea comes form a tea plant native to Asia called Camellia Sinensis, the same plant that is the source of black tea. What makes green tea different, and green, is not the plant used to make the tea, but how it is processed. This much studied extract, produced from Camellia Sinensis leaves in China, is used as a source of antioxidants for the promotion of good health.

Bacopa extract is taken from the succulent leaves of a small creeping plant commonly found growing throughout damp and marshy wetlands of India. This herb, with its small white flowers, is often mistaken for a water lily, although the two are unrelated. Bacopa has been traditionally used for good health.

Milk thistle is a tall, flowering plant with spiny stems and toothed, thorny leaves. Native to the Mediterranean, this plant can now be found throughout the world. It has been used for hundreds of years to promote liver health and to support liver function.

Called the "king of Ayurvedic herbs," is an adaptogen herb and has been traditionally used to support health. The primary active components in Ashwagandha are a group of chemical compounds called withanolides.