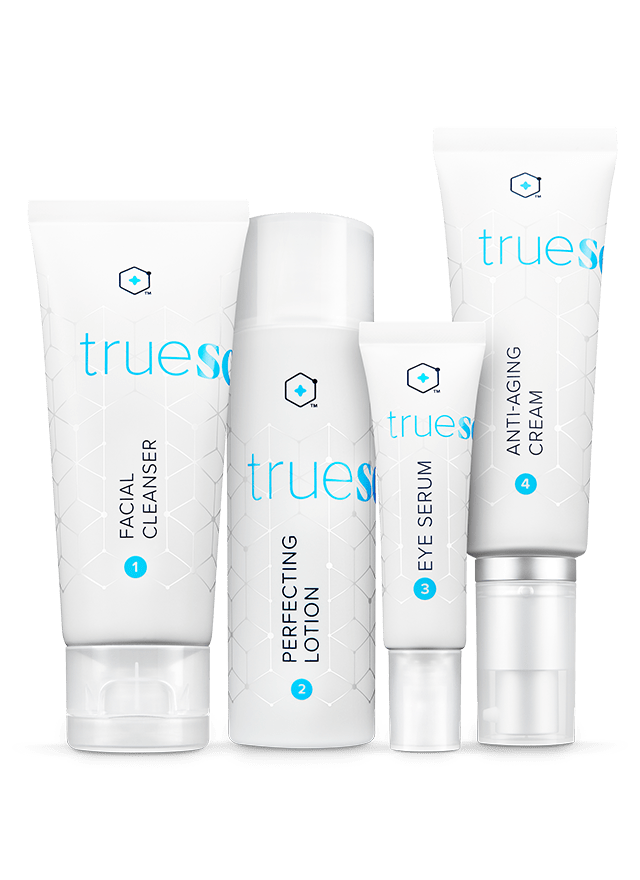 Free Shipping
TrueScience
TrueScience® Beauty System
With enhanced Nrf2 Technologies
Facial Cleanser, Perfecting Lotion, Eye Serum, Anti-Aging Cream
4 TrueScience Products

{{ getPrice(variant.prices, { priceLevel: priceLevelRetail }).pv }}

PV
How to Buy
Powerful science. Real results.
Introducing the world's first skin care system powered by nutrigenomics. TrueScience Beauty System is designed to create healthier, more vibrant and beautiful skin from the inside out.
Beautiful skin is healthy skin—inside and out. It's a philosophy that led us to TrueScience. More than helping you look and feel your best, TrueScience is complete line of skincare products scientifically engineered with Nrf2 technologies and safe ingredients to help your skin rejuvenate themselves. So instead of harsh, ineffective ingredients, you can give your skin the exact opposite. Safe, effective, and powerful, TrueScience works, and it can help you bring youth and brilliance back to your skin.
Whether it's firmer skin, even tones, less-visible wrinkles, or fewer bags under your eyes, TrueScience can give your skin the health, youth, and radiance you want. Unless you want the same old expensive big brand stuff that doesn't work. Then you're on your own.
Benefits
Mitigates visible effects of skin damage caused by oxidative stress.
Steps up skin's own protective barriers.
Provides protection against environmental assaults on skin.
Counterbalances the visible negative effects of sun related damage.
Your Skin Has a Big Job
Our skin is the protective layer of our entire body and our survival depends upon it working well. In fact, it is considered an "organ" and the main component of the integumentary system (others include hair and nails). It is amazing to think that skin is the first-line shield against several external threats in the environment for the entire human race. When it functions normally, our skin defends valiantly against infectious pathogens, radiation from the sun and the climate. It is one of the body's critical tools to regulate temperature and prevent the loss of water.
95

%

More Moisturized and Hydrated Skin *
94

%

Smoother Skin *
88

%

Brighter and More Luminous Skin *
87

%

Younger Looking Skin *
Label Info & Usage
Please view individual products for their label info and ingredient information.
* As part of an eight week clinical study, participants were asked to complete a self-assessment survey based on their use of the TrueScience products. Individual results may vary.