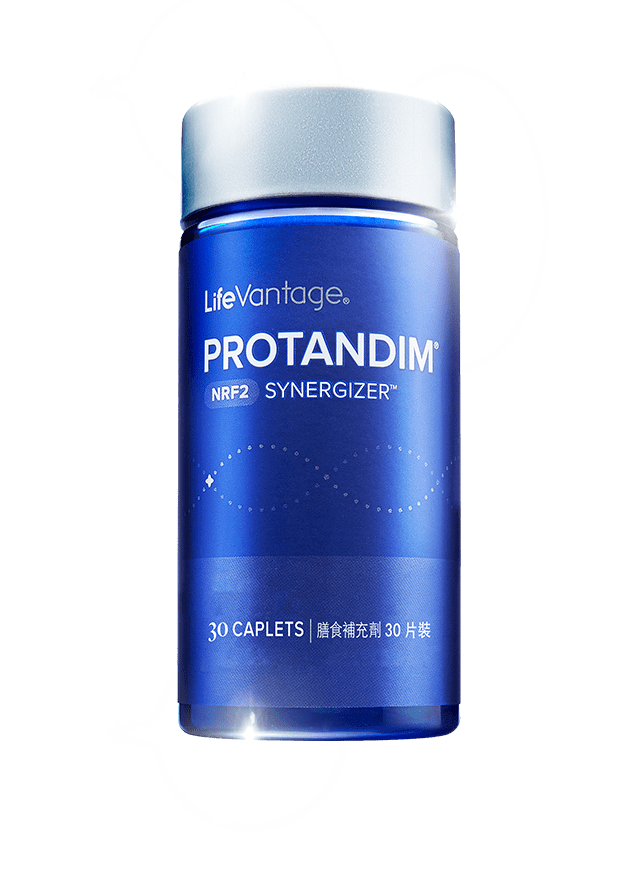 {{ product.badge }}
Free Shipping
Protandim®
Protandim® Nrf2 Synergizer™
Time to evolve from supplements to biohacking. Clinically proven to reduce oxidative stress in humans by 40% in 30 days.
$
30-Day Money Back Guarantee
Try our products risk-free. You can return your order within 30 days of purchase for any reason.
No-Hassle Subscriptions
You can skip a month or cancel your subscription by contacting our customer support at any time, so you can choose our best pricing with confidence.
The Start of Your Healthy Living
Protandim Nrf2 Synergizer is a patented, science-based formula that has been researched, tested and validated by renowned universities and institutions. It is the only supplement proven in a clinical study to reduce the oxidative stress in humans by an average of 40 percent in 30 days.
Benefits
Protandim is a daily dietary supplement that combats cellular stress through Nrf2 activation
Cellular stress is inevitable for everyone
Protandim significantly reduces cellular stress through Nrf2 activation
Nrf2 helps to regulate survival genes
Protandim Unleashes Powerful Antioxidant Enzymes to Protect Cells
Protandim's specific formula activates the Nrf2 protein, also known as a "master regulator" of the body's stress response. Protandim stimulates this protein, resulting in the body producing its own powerful, protective antioxidant enzymes: superoxide dismutase, heme-oxygenase, glutathione peroxidase and catalase.
%

40

Reduction in Cellular Stress in 30 Days
Exclusive LifeVantage Patents for Protandim
Patent No.

US 7,241,461
Awarded
Patent No.

US 7,579,026
Awarded
Patent No.

US 7,923,045
Awarded
Ingredients
Turmeric has been used for 4,000 years in both Ayurvedic and Chinese medicine to help a variety of conditions. Current studies show that turmeric helps fight cellular stress, reduce joint discomfort and aid digestion. Turmeric is known to contain natural phenols called curcuminoids. *

Bacopa has long been hailed for its ability to enhance cognitive abilities. Bacopa has been important in Ayurvedic medicine for centuries, used chiefly to enhance clear thinking and memory function. Studies suggest it provides strong cellular defense. It is also used to improve concentration, alertness and focus. The bacopa ingredient in Protandim is high in bacosides, the major constituent of which is the botanical compound called saponins. *

Called the "king of Ayurvedic herbs," is an adaptogen (a substance which enhances the resistance of an organism to various stressors) and has been traditionally used as an anxiolytic to help reduce chronic stress. Ashwagandha has also been used as a way to support memory enhancement and as a sleep aid. The primary active components in Ashwagandha are a group of chemical compounds called withanolides. *

Green tea is made from unfermented leaves and reportedly contains the highest concentration of powerful antioxidants called polyphenols, particularly catechins, of which epigallocatechin gallate (EGCG) is the most abundant. Protandim's green tea extract contains 98% polyphenols. Green tea has been traditionally used for many health benefits, including regulating body temperature and blood sugar, promoting digestion, improving mental processes and improving cardiovascular health. *

Milk thistle has been used for 2,000 years as an herbal remedy to support liver, kidney and gallbladder function. Several scientific studies suggest that substances in milk thistle (especially a flavonoid called silymarin) protect the liver from toxins. *
Label Info
Serving Size

1 Caplet (1.124g)
Servings Per Container

30
| Amount Per Serving | Amount | DV% ** |
| --- | --- | --- |
| Total Energy | 0kcal | |
| Protein | 0g | |
| Total Fat | 0g | |
| Saturated Fat | 0g | |
| Trans Fat | 0g | |
| Carbohydrates | 0.8g | |
| Sugars | 0g | |
| Sodium | 11mg | |
| Calcium | 75mg | |
Ingredients

Proprietary Blend: Milk Thistle Extract (Silybum marianum) seed (active ingredient), Bacopa Extract (Bacopa monnieri) whole herb (active ingredient), Ashwagandha Extract (Withania somnifera) root (active ingredient), GreenTea Extract (Camellia sinensis) leaf (active ingredient), Turmeric Extract (Curcuma longa) Rhizome (active ingredient).

Other Ingredients: Calcium (as dicalcium phosphate and calcium carbonate) (bulking agent), Microcrystalline Cellulose (firming agent) Croscarmellose Sodium (stabilizer), Silica (humectant), Modified Cellulose (firming agent), Stearic Acid (emulsifier), Magnesium Stearate (emulsifier), Maltodextrin (glazing agent), Medium Chain Triglycerides (glazing agent).
* The benefits listed for the above ingredients are based on historical/documented use. Some of these benefits may not be available at their full amounts at the current recommended dose of Protandim. You may have to consume more than one (1) Protandim tablet to get the benefit described above.