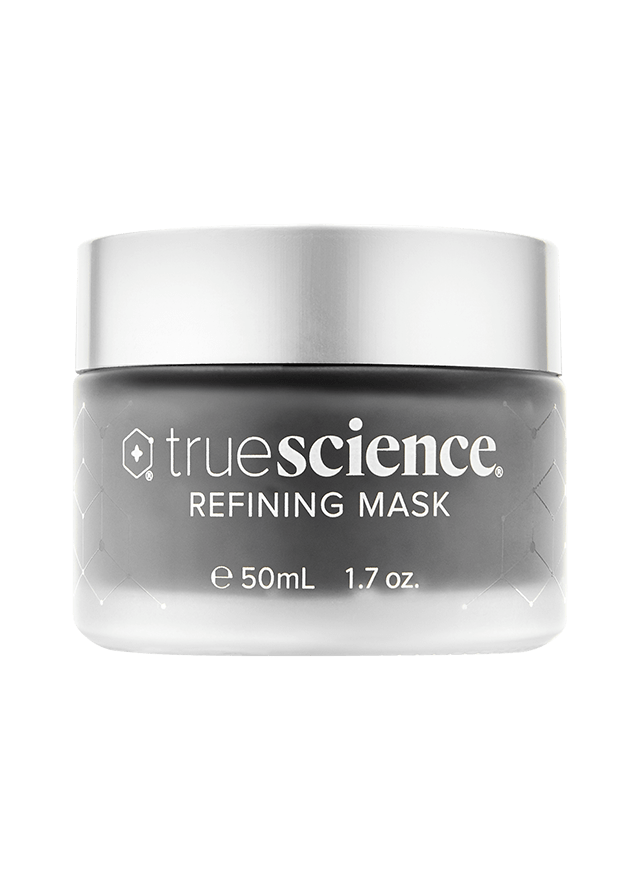 {{ product.badge }}
Free Shipping
TrueScience
TrueScience® Refining Mask
Our most popular beauty product is back! The mask everyone wants to wear, just in time for the holidays!
Look as radiant as the fire you're roasting chestnuts over this holiday season. TrueScience Refining Mask's clean, cutting-edge formula uses Kaolin Clay, Charcoal, and Nrf2 technologies to cleanse even the most stubborn dirt and pore-clogging oil while the Dead Sea Mud and Jojoba beads loosen dead skin cells to exfoliate and sweep them away, restoring a healthy radiance to your skin.
$
30-Day Money-Back Guarantee
Try our products risk-free. You can return your order within 30 days of purchase for any reason.
No-Hassle Subscriptions
You can skip a month or cancel your subscription online at any time, so you can choose our best pricing with confidence.
Benefits
Gently exfoliates dead cell build-up
Cleanses skin of dirt and surface impurities
Moisturizes and refreshes tired-looking skin
Absorbs excess oil without drying out skin
Formulated with Nrf2 technologies to help make the skin appear brighter, softer, and clearer
Supports faster skin cell turnover for fresher-looking skin
Reduces the appearance of congested looking pores
Terms & Conditions
"Tingle All The Way" CA Cyber Monday promotion begins November 30, 2020, at 12:00 am MST and will be available while supplies last.
This promotion is only available in Canada.
LifeVantage CA customers and distributors may participate in this promotion.
This promotion is a limited time offer and is not eligible for monthly subscriptions.
LifeVantage reserves the right to change the promotion at any time, interpret the rules of the promotion, and has the final decision in the event of any disputes regarding the qualification requirements and inclusions.
This promotion may also be modified or canceled at any time at the sole discretion of LifeVantage Corporation or its affiliates without any advance notice to distributors.