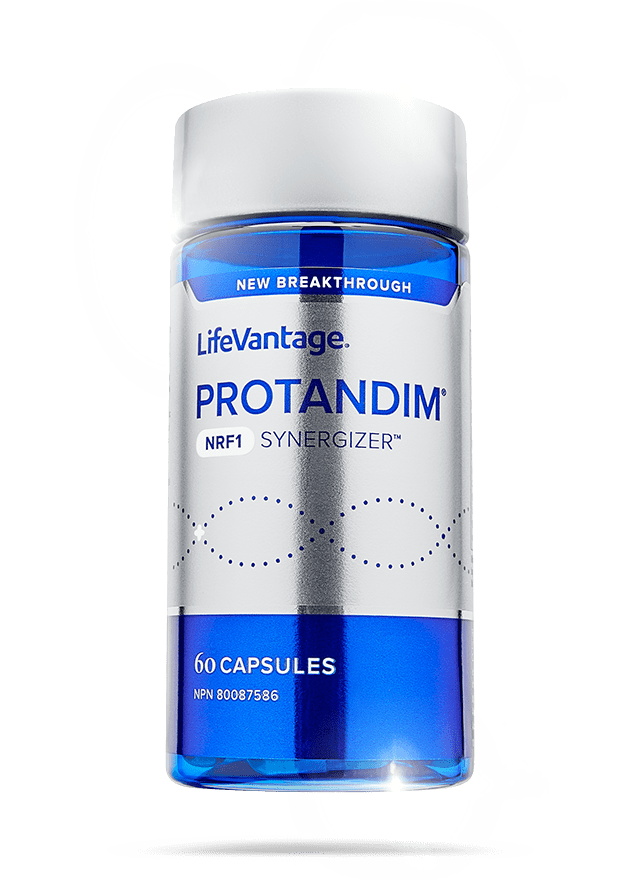 {{ product.badge }}
Free Shipping
Protandim
Protandim® NRF1 Synergizer™
Protandim NRF1 Synergizer uses nutrients to protect your cells. An essential biohack for the maintenance of good health.
$
30-Day Money-Back Guarantee
Try our products risk-free. You can return your order within 30 days of purchase for any reason.
No-Hassle Subscriptions
You can skip a month or cancel your subscription online at any time, so you can choose our best pricing with confidence.
Take the Power Back
To stay active and energetic, your body needs to stay at peak performance. By protecting your cells, you can help keep your body working the way it should. Protandim NRF1 Synergizer is the new spark plug your daily health deserves—in a scientifically-engineered formula designed to deliver.
Protandim NRF1 Synergizer is scientifically formulated to help protect your cells. It's designed to help you feel healthier from the inside out. That's real power. And it's just the start.
Benefits
Helps to maintain and/or support cardiovascular health.
Provides antioxidants for the maintenance of good health
Source of antioxidants
Help fight against the cell damage caused by free radicals
Cellular Health with Nutrigenomics
We're a leading authority on nutrigenomics—using nutrition and naturally occurring compounds to change your gene expression for a healthier life. This led us to NRF1, a protein that regulates the expression of genes involved in protecting your cells. LifeVantage found a way to activate NRF1 with a unique blend of ingredients. Here's how it works:
Maintains And Supports Cardiovascular Health
Acetylcarnitine has been shown to work in many different aspects of heart cell health to support cardiovascular health.
Activates NRF1 Protein
Wake up the NRF1 protein to support cellular protection and health.
Protects your cells
Means your body functions more efficiently and support heart health.
Reduces Oxidative Stress
Combined with Protandim Nrf2 Synergizer, antioxidants reduce oxidative stress to protect cells and support cellular health.
LifeVantage applied the study of nutrigenomics to identify these antioxidants, phytonutrients, and coenzyme to activate NRF1 and promote heart health and cellular protection.
Ingredients
An amino acid (a building block for proteins) that is naturally produced in the body. Combined with Alpha Lipoic Acid, these two ingredients support healthy cells and protect against oxidation.

Quercetin is a naturally occurring antioxidant, a flavonoid that is abundant in various fruits and vegetables. It is a NRF1 activator. Quercetin is a polyphenol that helps to protect the cells and their function.

It is made in the body and resides primarily in mitochondria. Combined with Alpha Lipoic Acid, it supports cellular protection and antioxidant defense mechanisms.

Alpha lipoic acid, or ALA, is made in the body. ALA is able to neutralize free radicals because of its -thiol groups because it is both fat and water soluble, it can protect all parts of the cell (including the mitochondria) from these free radicals.

This extract contains powerful natural Stilbenoids known to activate the NRF1 protein and pathways.
Label Info
Serving Size

2 Capsules
Servings Per Container

30
| Amount Per Capsule | Amount | DV% ** |
| --- | --- | --- |
| Acetylcarnitine | 212.5mg | |
| Quercetin | 62.5mg | |
| DL-alpha-Lipoic acid | 25mg | |
| Coenzyme Q10 | 15mg | |
| Grape Extract | 8.75mg | |
| Grape Vitis vinifera | 26.25mg | |
Other Ingredients

Hypromellose, Magnesium stearate.
Usage
Directions

Adults: Take 1 capsule two times a day, and take with food/meals.
Warnings

If you are pregnant or breastfeeding, have liver disease, kidney disease and/or a seizure disorder, and/or diabetes, consult a health care practitioner prior to use. If you experience sweating, paleness, chills, headache, dizziness and/or confusion, discontinue use and consult a healthcare practitioner. Consult a health care practitioner prior to use if you are taking blood pressure medication. May cause digestive problems. For use beyond 12 weeks, consult a health care practitioner.
Note

100% Vegetarian. Free of Gluten, Wheat and Dairy.